| | |
| --- | --- |
| | Local Weather |

WC Bratton Images

Mobile Library

Westbury CAN Bulletin

Parish Newsletter

The Life and Thoughts of Marjorie Reeves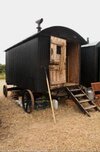 Reeves Sheperd Hut
The Local History of Bratton->Bratton's Canadian Links




Bratton's Canadian Links



No doubt there are many of these, forged by village residents who have emigrated. Here are two particularly fascinating stories.



Bratton's Fire Engine Goes To Canada




In 1983 Brattonians not already in the know were intrigued to learn from the local newspaper that their old village fire engine was on display at the Ontario Science Centre in Toronto (though dates and facts in the coverage were far from accurate).

In the days when parish councils were the local fire authority, a team of eight fire fighters with their Chief covered Edington and Coulston as well as Bratton with their horse-drawn pump, which had to be filled at the nearest water source to the fire. The system continued for a while after it became the responsibility of the Warminster & Westbury Rural District Council, so the engine - in service from 1898 until at least 1938 - passed into their ownership.

In 1958 the RDC offered it back to Bratton Parish Council as a museum piece, and it was stored in a shed until 1961 when the decision to sell was confirmed. The fire engine, described as a Shand Mason, was advertised in Veteran & Vintage Magazine. Of seven offers, the highest bid was £75, from Messrs Lambe of Bromsgrove acting for Mr Charles Matthews of Richmond Hill, Ontario. So off it went, later to be beautifully restored in red paint with the name BRATTON prominent in gold, though by now apparently lacking its leather fire buckets.


The 'Bratton fire pumper' was on display in the Hall of Transportation from the opening of the Ontario Science Centre in 1969 until the Hall closed in 2004. Sadly, the fire engine is no longer on display but in storage at the OSC.

Photograph by kind permission of the Ontario Science Centre, Toronto, Canada www.ontariosciencecentre.ca


You can read the history of Bratton Fire Brigade in a piece by Kathleen White in the Bratton History Association's Journal no.2 (1992); Wiltshire's library service has copies.



Seagram's Gin



My other story concerns a brand name familiar to gin drinkers, that of Seagram.

The last Ballard to own the imposing Bratton House was William Aldridge Ballard, and when his only child Mary Band Ballard married Edward Frowd Seagram MD in 1803 the Seagrams became 'squires' of Bratton. Within three years Mary was dead but her husband remarried and notched up a large family including an eighth child called Octavius Augustus, born in 1816. Around this son is woven a sad and much embellished story of forbidden love and loss, but with a happy outcome in the long run.

It tells how Octavius fell in love with a village maiden, Amelia Stiles, daughter of poor labouring tenants of Squire Seagram. When the match met with his father's implacable disapproval - this was in 1837 according to their descendants - the couple eloped to Canada, and in retribution Amelia's parents were driven out of the village and their cottage demolished. Octavius was supposedly 'cut off without a penny'.

Amelia was the daughter of John and Mary Stiles, baptised as Millier five years before Octavius was born, so the age gap would have added to Dr Seagram's disapproval. Amelia had enough education to be able to read and write (just), and there was a little money in the family from her mother's side, so our image of her background may be a bit exaggerated. It is true that by 1841 the Stiles family were living in the Chalford area of Westbury, and that cottages along the road in front of Bratton House were demolished at some stage (remnants can be seen in the high wall), but this may have been more to improve the view than out of spite. Amelia's father was widowed in 1844, and he is probably the John Stiles who later fell foul of the law and served time for felony in Devizes gaol. No doubt he blamed the Seagrams for his misfortunes whether or not he had justification.

A lot is known about the couple after their flight from the constraints of village life, from letters both in private hands and in the Wiltshire & Swindon Archives, some of them very pathetic. Apparently they left separately, Octavius first, and married in Canada where it seems they had the support of other Bratton emigrants; (more has been written about this by Nan Cawthorne in her unpublished story of the Emm family). Octavius reportedly bought an inn and two farms near Galt, so they were not always destitute, though letters home speak of hardships. They had two sons, Joseph Emm (1841-1919) and Edward Frowde (1842-1910), but poor Octavius died in 1848, and soon the boys scarcely remembered him. This was three years after his stern father Dr Seagram had died. Octavius' name was added to the family tomb close by St James Church in Bratton, in a symbolic return to the fold. Amelia remarried to John Barbour, and then she too tragically died in 1852 after giving birth to a daughter.

By most accounts, their stepfather brought the boys up well. They wanted to stay with him but the legal guardians in Canada who administered their trust fund sent them to board at a grammar school. The boys corresponded with their aunt Kerenhappuch Seagram, whose remarks suggest they had a 'generous' allowance. But in 1859 Joseph wrote wistfully that times were hard in Canada and he wished he could come to England to see his family. Later, at least one of Octavius's brothers and sisters (Thomas) left them a bequest of money in his will.


The happy ending is that Joseph (Jo) Seagram did well for himself, joining the distillery company at Waterloo, Ontario that later came to bear his name.

A millionaire and a sportsman, he owned a string of racehorses. People seeing him at the racetrack said he looked like Edward VII. Incidentally, of Dr Seagram's children only Octavius and one of his sisters left descendants, and ownership of Bratton House soon passed out of the direct line.
By Alison Maddock (May 2009)